In The Studio
Mostly recycled materials are used. The materials get cleaned up and cut (not necessarily in that order every time) to fit the inspiration for the current project.
Check out my
facebook
page for even more shots from the studio
Works in progress
Below are a few of projects in progress.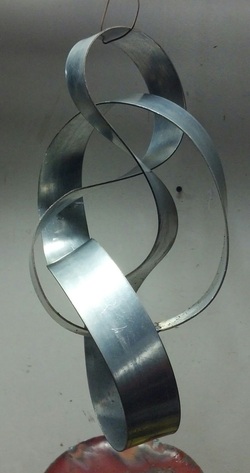 "That's Intertwinement"

---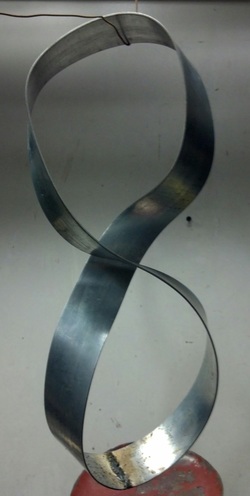 "Mobius 2"

---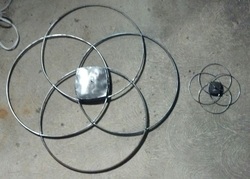 Circles XL next to Circles Wall Clock

---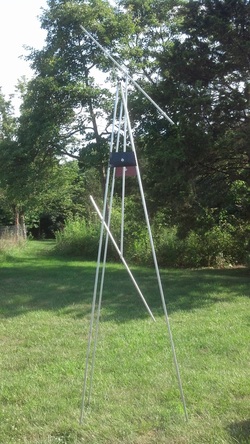 The beginnings of a kinetic.

---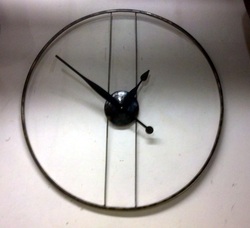 Spotlight on Time Wall Clock
Just over 22 1/2 inch diameter A record sized (for me ) wall clock soon to be outsized by Circles Wall Clock B

---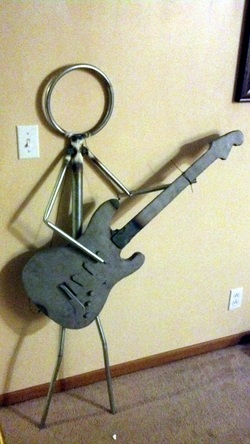 JUMBO Guitar Guy

The guitar is full size (Not 3/4 size as I mistakenly stated somewhere previously), this guy stands just over 4 1/2 Feet tall (So far) The Tremolo/bridge setup is intentional as this is loosely based on SRV's Number One guitar when it had the left handed bridge installed

---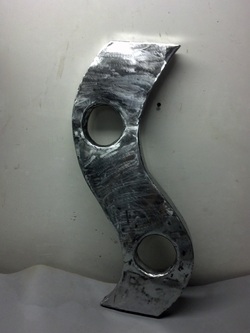 Future Table Lamp

---
Table Lamp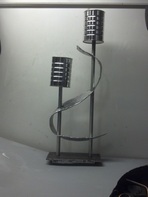 Each lamp individually controlled via pull chain. shades are on the way
---
Table Lamp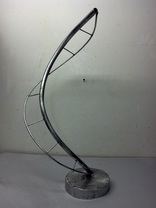 Touch activated with two brightness settings. Shade on the way.
---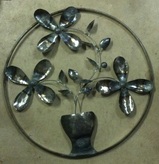 Made from 55 gallon drum lid and band. the band is 22.5" in diameter
---
Divided Diamond Wall Clock
---
Blue Moon Wall Hanging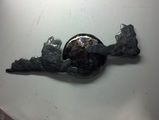 ---
Three Sails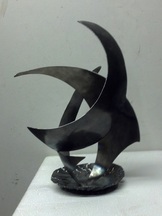 ---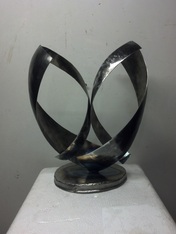 ---
---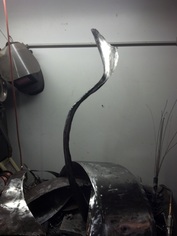 ---
TOOOOBIN!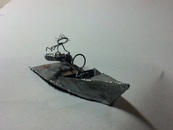 ---
Pontoon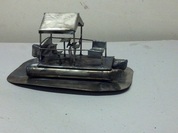 ---
---
Treestand Bow Hunter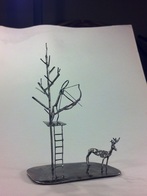 ---
DJ
---
Blockulous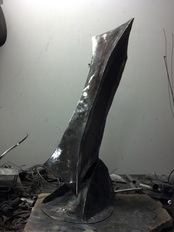 ---
Process Steps
Gathering Materials
Rescuing some raw material before it gets hauled off to the landfill
---
Future Art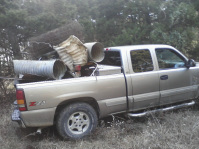 At (ok... slightly over) my limit for this load. Got lots of goodies to work with.
---
Torch Welding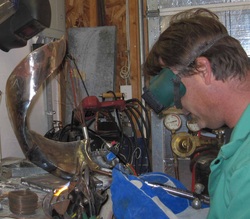 My preferred method of welding is Oxy-Acetylene gas welding. I switch between two torches. A Smith Little Torch for the smaller work, and a MECO Weldmaster that has been papssed down through the family.
---
Wire Feed / MIG welding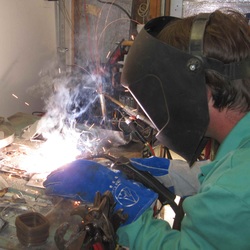 While I prefer using the torch for my artwork, there are times when the wirefeed proves useful.
---
Cleaning some welds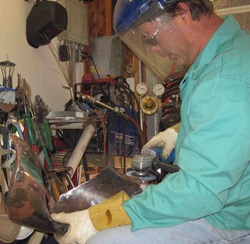 ---
Airplanes are on the way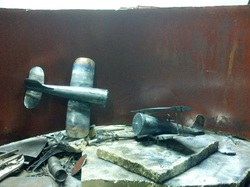 Many of people that stopped in at the shows mentioned airplanes. After many different attempts, I finally have a design I am satisfied to continue with.
---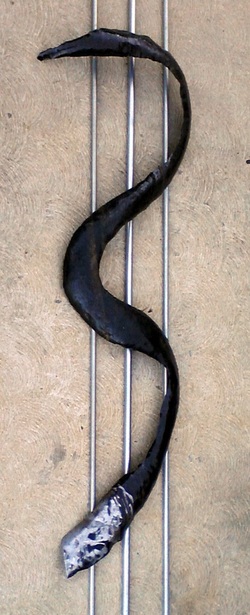 The initial size for this piece is 3 Feet by 7 1/2 Feet. The final size is expected to be close to that dimension when finished

---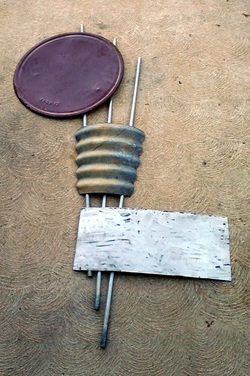 The initial size for this piece is 5 Feet by 8 Feet.(the circle is around 22 inches in diameter). The final size is expected to be close to that dimension when finished
---
Previous in process pictures
Barrell Bumps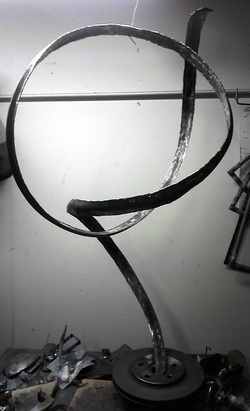 ---
TriforceAuryn
Fabrication complete. ready for final tweeks and finish
---
A few figurine sculptures ready for finish.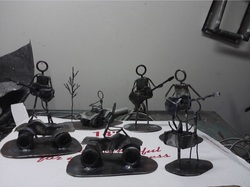 A few guitarists, four-wheelers and a new one - barbeque

---
Ribbon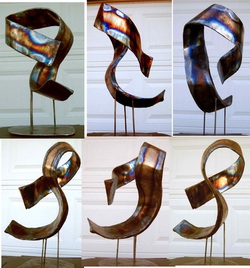 Abstract freestanding sculpture. Perfect for a table, desk, or bookshelf. Made of sheetmetal from outer door skin of 1971 GMC Pickup.

Dimensions:
8" X 8.5" X 14.5"
---
Chaos Clearing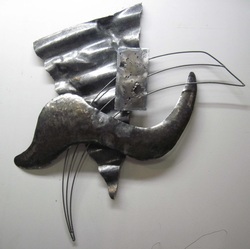 This Abstract is constructed of steel sourced from culvert, Door panel from 71 GMC pickup, Bar B Que grill, and wire.
DImentsions: 29" wide x 29.5" tall
---
Art of Wine 1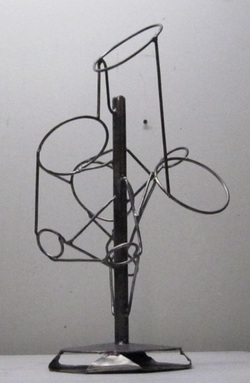 ---
Art of Wine 1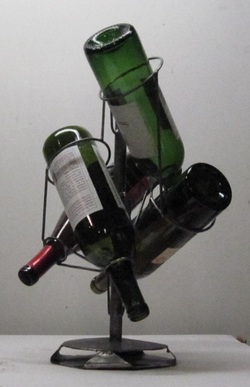 ---
Serenity
As I was doing some cleaning around the studio I had some conduit that, always seemed to be under foot. Since the storage area is getting full, I decided to cut it down and make some frames for later use. As I was about to call it a day, I had an idea...

Materials: Steel sourced from conduit, metal wall stud tray, piece of outer cowl panel from 1953 Chevy 3100 pickup cab
Piece of rear window sill from 1971 GMC pickup
---
Coldswirl
Materials: Steel from volkswagon bug fenders, and an old wall mounted light fixture.
---
Eyecee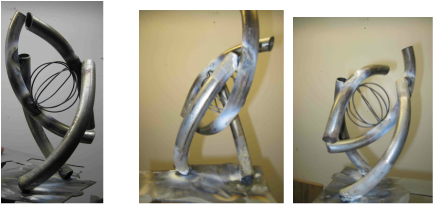 I was actually crated the "ball" as part of another idea and got off topic.

Materials: Steel recycled 1/2" conduit, Plate steel and rebar wire
---